2018 Reunion
Date - Thursday, September 13 to Sunday, September 16
Dayton, OH

Crowne Plaza DaytonHotel
33 East 5th Street
Dayton, OH 45402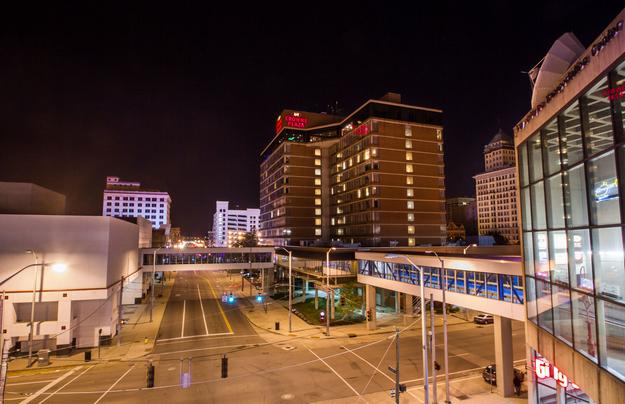 The hotel website is:
Single, Double or Handicap Accessible rooms are all $114 per night (plus taxes). Room rate includes full, hot breakfast buffet for all. Group rates are good from September 8 through September 20, 2018.

To make your reservation, call (800) 689-5586 and mention the Bomb Groups Reunion.

All walks in this hotel are short, but if you have mobility issues, be sure and ask them to house you close to the elevators. Handicap accessible rooms are available. Please ask if you need these accommodations. They won't know your needs if you don't tell them.

Reservations absolutely MUST be made NO LATER THAN August 16, 2018. Reservations after that date are NOT guaranteed at the group rate and are subject to room availability. There are no overflow hotel options available in downtown Dayton so to be sure that you get the room you want at the group rate, reserve before this date. Any reservation may be cancelled WITHOUT PENALTY if cancellation is made 24 hours or more before the check-in date.

Complementary valet parking is available. This is a downtown hotel. The parking garage is across the street with a 2nd floor enclosed skywalk to the hotel. You can leave your car at the front door, check in and they will park your car for you. Of course you can always park yourself if you prefer.

Complimentary airport shuttle is available, but you'll need to call the hotel in advance with your flight information to reserve a ride to the hotel.

It is recommended that you reserve your room early. We have a good sized room block but we ended up running out of rooms last year as too many people waited until close to the reunion time to book and no more rooms were available. IF YOU BOOK A ROOM AND FIND LATER THAT YOU MUST CANCEL, YOU MAY DO SO WITH NO PENALTY UP TO 72 HOURS PRIOR TO ARRIVAL. So please, PLEASE, book your room now so if we run out of rooms in the block again, there will be time to add more.
If you have questions, call Dave Blake at (913) 523-4044
or E-Mail: reunion@461st.org



485th Bomb Group Association (Official) Facebook Group
https://www.facebook.com/groups/485thbg/
Please follow the link above to access Facebook and note the group rules when posting.

---
PAST REUNIONS
2018 - Dayton, OH
98th, 376th, 451st, 455th, 460th, 461st, 464th, 465th, 484th and 485th Bomb Groups met in Dayton, OH this year.

Presidential Unit Citation Medal Presentation Ceremony

Skywrighter article - see page A8

2017 - New Orleans/Kenner, LA

The 376th, 451st, 455th, 461st, 464th, 465th, 484th, and 485th Bomb Groups met in New Orleans/Kenner, LA this year.
2016 Dallas, Texas
(Combined Bomb Group Reunion
2015 Kansas City
(First Combined Bomb Group Reunion)
The 485th BG Association was proud to be part of the seven bomb groups attending this first for us kind of reunion and felt very welcomed by all the groups attending.
Click HERE to read more or to see the VIDEO PRESENTATIONS
2014 Dallas, Texas
50th and Final 485th Officially Hosted Reunion
Dallas ABC affiliate WFAA Story on the 485th
2013 Tampa, Florida
2012 Washington, DC
2011 San Diego, California
Tom Brokaw Special 485th Message

2010 Charleston, South Carolina
2009 Cincinnati, Ohio
2008 San Antonio, Texas
2007 Kansas City, Missouri
2006 Columbia, South Carolina
2005 Tucson, Arizona
2004 Washington, DC
2003 Little Rock, Arkansas
2002 Reno, Nevada
2001 Harrisburg, Pennsylvania
2000 St. Louis, Missouri
1999 Denver, Colorado
1998 Louisville, Kentucky
1997 Dallas, Texas
1996 Savannah, Georgia
1995 Scottsdale, Arizona
1994 Memphis, Tennessee
1993 Albuquerque, New Mexico
1992 Peabody, Massachusetts
1991 Little Rock, Arkansas
1990 Dayton, Ohio
1989 San Antonio, Texas
1988 St. Petersburg, Florida
1987 Scottsdale, Arizona
1986 Nashville, Tennessee
1985 Harlingen, Texas
1984 Charlotte, North Carolina
1983 Chicago, Illinois
1982 Austin, Texas
1981 Louisville, Kentucky
1980 European Tour
1979 Pittsburgh, Pennsylvania
1978 Newport Beach, California
1977 Minneapolis, Minnesota
1976 Vail, Colorado
1975 Atlanta, Georgia
1974 York, Nebraska
1973 Rochester, New York
1972 Houston, Texas
1971 Atlantic City, New Jersey
1970 Oklahoma City, Oklahoma
1969 St. Louis, Missouri
1968 Dearborn, Missouri
1967 Dayton, Ohio
1966 Grand Rapids, Michigan
1965 Newton Falls, Ohio