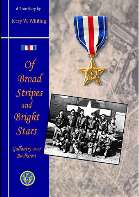 Of Broad Stripes and Bright Stars: Gallantry Over Bucharest
By Jerry Whiting
This is a story about one day in the lives of some of the Ploesti raiders, the men charged with the destruction of Hitler's oil. On this day, June 28, 1944 the target for the 485th Bomb Group was not Ploesti, but an oil refinery and storage facility nearby, in Bucharest, Rumania. Some of the men had a bad feeling about this one, a feeling they wouldn't return. Their experience taught them things rarely go as planned. This mission was no exception, but on this one day, things went terribly wrong, changing the lives of many, but bringing out the best in these men. This is their story. 115 pages.
For your copy send a check for $10+$5 shipping and handling (U.S. orders only) to:
Jerry Whiting
2576 Fox Circle
Walnut Creek, CA. 94596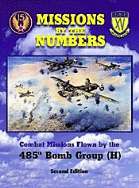 Missions by the Numbers
Second Edition
(Released March 2008)

This book includes mission summaries of 187 combat missions flown by the 485th Bomb Group. Included are stories written by several members of the group that tell the complete story of a mission, from the minute the coded message was received until the mission was completed. Also included is the story of a gunner who was shot down and captured and the story of a crew that struggled to make it safely through the Brenner Valley, also known as "flak alley", with severe battle damage.
There are 20+ photos in this 190-page, quality paperback book, including several photos of bomb strikes, damaged B-24s, escort fighters and reconnaissance photos, as well as maps and charts. There is also reference information on group losses and bomb types, a sample of a pilot's "flimsy" (secret plan for the mission) and much, much more. This is a book about the 485th Bomb Group, told by the men who lived it. This is a very limited edition. It is a reprint of the original book, which has been out of print for several years. Only 300 copies have been printed, so get your copies now. For your copy send a check for $20+$5 shipping ($25 total) to:
Jerry Whiting
2576 Fox Circle
Walnut Creek, CA 94596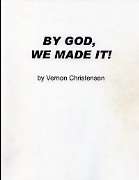 BY GOD, WE MADE IT!
The War Experiences of Vernon Christensen 1942-1945
In this 105-page soft-cover book, Vernon Christensen recounts his experiences with the 485th Bomb Group in Italy. Vernon, a top turret gunner in the 831st Bomb Squadron, was shot down over Auschwitz, Poland on September 13, 1944 on his 50th mission. Vernon describes what happened that fateful day and his capture by German soldiers. He relates some of his experiences as a POW at Stalag Luft IV and provides a rare, firsthand account of the evacuation of the camp and the infamous "Black March" that followed, culminating in regaining his freedom at the end of April 1945. Vernon provides a heartwarming follow-up to his story that came nearly 50 years later, when he and other survivors from his crew were awarded the Polish War Cross by the Polish government. He describes his return to Poland to attend a ceremony honoring his fallen crew members. This book is a very unique, personal account of wartime experiences and includes 30+ photos, maps and illustrations.
For your copy, including postage and handling (U.S. orders only), please mail a check or money order for $15 to:
Gail Eamon
1015 Hidden Valley Road
Colorado Springs, CO 80919-2717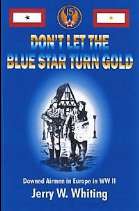 Don't Let the Blue Star Turn Gold
By Jerry Whiting
This is a 250-page hardcover book, released in September of 2005, about airmen in the 485th Bomb Group who were shot down over occupied Europe. The book includes 65 photos. These stories are about the struggle to survive of these downed airmen, so that blue star proudly hanging in the window at home wouldn't be replaced by a gold one. They are also the stories of family, waiting at home, of receiving the dreaded Missing in Action telegram and not knowing if their loved one survived.
These are accounts of love, duty and courage. Each is placed in the historical context of what was happening elsewhere in the world at the time. The author visited Europe to locate witnesses and visited the crash site of one of the downed bombers. Each chapter was extensively researched and the author shares background history of how each story came to be, often with surprising revelations. Several contain eyewitness accounts from Europeans. In one chapter, two Croatians tell the story of rescuing three airmen while under fire; in another, Polish farmers tell of the 485th bomber that fell in a nearby field. There are stories of capture, evasion and escape. This is an inspirational book, suitable for the entire family.
For your copy send a check for $20+$5 shipping and handling (U.S. orders only) to:
Jerry Whiting
2576 Fox Circle
Walnut Creek, CA. 94596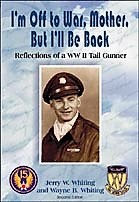 I'm Off to War, Mother, But I'll Be Back
By Jerry Whiting and Wayne B. Whiting
(June 2007 release of revised edition)
This is the true story of a WWII tail gunner who struggles to survive combat missions over the flak-filled skies of Europe and keep the promise to his family to return home safely. Through excerpts from his letters you'll see the changes in the young warrior as his war continues. Included are the following stories:
The saga of one of the last bomber crews shot down over Europe;
An airman's miraculous survival, blown from his plane without a parachute;

An airman's evasion and safe return 40 days later after being shot down over Yugoslavia;

The capture of a Messerschmitt fighter and pilot by a bomber crew;

The unique relationship this airman and his group had with the 332nd Fighter Group, theTuskegee Airmen;

The continuing search today for a bomber crew shot down over Poland in 1944.
The author is proud to offer this revised second edition. Many Vets came forward to offer additional details of stories contained in the original paperpack edition of this book. Countless interviews went into the revision. This is a hardcover, 250+ page book that has nearly 100 photos, along with a new chapter entitled, "A Mission in Photos". It is a book about loyalty, friendships, and family. Suitable for the entire family.
For your copy send a check for $20+$5 shipping and handling (U.S. orders only) to:
Jerry Whiting
2576 Fox Circle
Walnut Creek, CA. 94596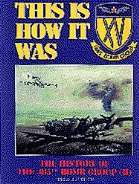 This Is How It Was (SOLD OUT)
Edited by Sammy Schneider
A copy of the above book is available for loan at some museums. It may also be available on loan from your local library through their lending program. There may be a small charge for this service.
Occasionally, there may be additional publications and memoirs about the 485th Bomb Group available. Contact 485th Historian, Jerry Whiting, if you have questions about other publications.